Interesting development and a sign that the speed bag is once again gaining in popularity. If you've been following this blog, you might recall the "Punchdrumming" post (Punchdrumming!) and how Matthew Santiago a/k/a SpeedBag Ataraxis has been kind enough to not only be interviewed for the film, but made the trip to my punching studio a/k/a/ My Garage to shoot a punchdrumming music video that will be featured in the film.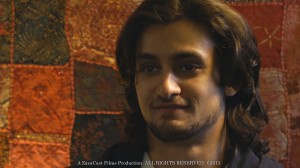 Well, as luck would have it, a video of Matthew punchdrumming at the SPEEDB.A.G. III gathering got picked-up on redit and went a bit viral, gaining the attention of some creatives from Gillette! He was tracked down through the forum, flown out to LA for a week and appeared in the now released video as part of Gillette's "Training Tracks" series.
Gillette Clear Gel Deodorant orchestrated a workout comprised of NFL players & high-performance athletes who came together for a spectacular musical experiment. Directed by Academy Award-winner Michel Gondry in collaboration with Phil Mossman from LCD Soundsystem. Music filmed & recorded at Ocean Way Recording Studios in Hollywood,California.
It's really quite something to watch….and I'm sure we'll be seeing it during our favorite upcoming NFL games. Congratulations Matthew on a job well done and helping to bring the "Art of the Bag" to a much wider audience!