As I was driving home from another incredible SPEEDB.A.G. IV gathering, I couldn't help but reflect on the 4 days of fun and comradery I had.  It is always great to see all my fellow bagger's from around the country, catch-up on life & see all the new combinations and advancements they have made.  Just when you think you've seen it all, their creativity takes the art of the bag to the next level!  I mean really, I'm amazed (and you will be too).
As usual, Donnie Blanks and his whole family open-up the Real Gymm to all our craziness, volume and endless hours of bagging, punchdrumming, teaching and learning well into the wee hours of the night.  In most cases and this year was no exception, the police regularly arrive sometime around midnight and 1:00am to politely ask us to take it down a notch…or shut it down compelety.  Either way, we all needed the rest because the morning brings another day to meet over coffee & breakfast, talk…and of course, more bagging!
This year was special for me because I could socialize and spend some time bagging instead of having a camera attached to my shoulder or be back at the hotel suite conducting the interviews for the film.  Getting to spend time to talk to Alan, Tim, Donnie, Dee, Lisa, G-Town, Matthew, Juxt, David, Greg, George, Tommy, John….it's just priceless…I consider all these people not just my 'bagging brothers', but true friends.  Believe me when I say, there is not a better group of people you could be blessed to meet.  Any one of them would give you the shirt off their back and not think a thing of it…you see, it's not only about this passion we all share…it's much deeper then that and I for one hope THAT never changes.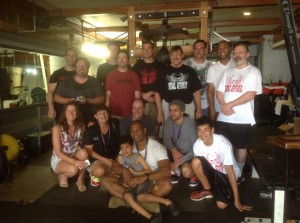 I was pleasently surprized to see that Biff drove all the way up from PA just to finally get to meet in person (you'll recall from a previous post that he was kind enough to get Deano's interview for me on his trip to Australia) and to get to see the preview screening of the film (more on that later). Special thanks to Biff & all his support of this film!
Then, another total surprize when Lisa (SpeedBag4Life) showed up all the way from California!  This gathering was just getting better & better.
Now, all play and no work makes Zaza a very happy boy…. but for the films sake, I did bring a small camera rig so I could get more bagging footage and some interviews that needed to be in this film to complete the story.
I got to sit down with Thomas Tabino aka. "Speedy Tommy T"…and believe me, once you see him bag, you'll know why he has that name!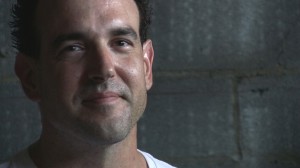 Thomas is an innovative, extremely creative, influential bagger and always strives to keep the art moving forward.  He offered some great insight and I know his chops on the bag sure make me want to practice, practice, practice. His passion for the sport extends to creating unique hardware, portable platforms, swivels and much more…and even at his status as one of the premiere baggers, he will gladly take the time to slow it down and teach anyone who wants to learn.
Next up was Lisa Perrone aka. "SpeedBag4Life"… I think that name says it all. Lisa is not only extremely well educated (she has her Doctorate), but a certified long-time speed bag addict. 
She discovered the speed bag back in 2001 and soon after became dear friends with Alan Kahn.  Her interview was just what I needed to get a better perspective on women and the speed bag and why there aren't more female speed baggers…but all that is about to change.  I noticed many more interested women at this years gathering & I'm sure we have a few more addicts on there way.
Finally, I'd like to address the 50 minute special preview of the film I screened at the gathering.  It was GREAT! (big exhale)  As any filmmaker will tell you, each film is like your little baby, you conceive the idea, nurture it, feed it (and burp it occasionally) and watch it grow… always hoping it will become something great.  You spend SO many hours with it that sometimes you start to lose perspective and wonder if somewhere along the way you're veered away from the story.  A preview screening was my answer…and thankfully it was a good answer.  The people that attended seemed to sincerely like the film (and so did the locals that were out to drink and play pool).  Granted, the event took place in a bar with a big screen and projector…so maybe it was a little of the beer talking?  Either way, I'm taking it as a win!  I have to thank everyone in attendence for their kind comments and continued support, it means the world to me. Together we are making our mark in history….it's time for the world to once again discover the "Art of the Bag"!